Captain America, the First Avenger offers valuable truths regarding dreams, determination and spiritual warfare. The hero, Steve Rogers, is a sickly ninety-pound weakling who can't pass the Army enlistment physical — until his mentor Dr. Erskine injects Steve with a super-soldier serum. Now Steve is
realizing his once impossible dream — but his journey is bittersweet: a Nazi saboteur gains access to the secret facility where Steve's transformation is taking place, and shoots and kills Dr. Erskine!
With the death of Dr. Erskine, the enemy strikes a real blow to the cause of freedom, but interestingly, it's this tragedy that actually propels Steve Rogers along the road to his destiny — as the first Avenger. On the heels of his tragic loss, and without giving it a second thought, Steve hotly pursues and captures the Nazi spy who shot down his friend and facilitator in cold blood. In the process Steve discoveries his amazing new strength and abilities and uses them for the first time.
The lesson here is that in life, it's often during difficult times — in the midst of loss and tragedy — that we discover our true strength and abilities in God alone; and have an opportunity to see our spiritual super soldier serum (the Holy Spirit) in action. The Apostle Peter writes, "…Greatly rejoice, even though … you have been distressed by various trials, so that the proof of your faith, being more precious than gold which is perishable, even though tested by fire, may be found to result in praise and glory and honor at the revelation of Jesus Christ." (1 Peter 1:6-7 NASB)
Steve Rogers could have got caught up in the moment. And afterwards, he could have spent months mourning the loss of his mentor; losing his focus and getting stuck in the past. Instead,  Steve kept his eye on the mission, and the reason Dr. Erskine blessed him with super soldier abilities: to defeat the enemy and have total victory over the evil.
We must follow Steve's example, as well as that of the Apostle Paul, who declared, "One thing I do: forgetting what lies behind and straining forward to what lies ahead, I press on toward the goal for the prize of the upward call of God in Christ Jesus."  (Philippians 3:13-14 NLT)
While pursuing Erskine's murderer, Steve begins to see how fast he can run, how much endurance he can muster, how much inner strength he can summon. The next day all the newspapers recount his exploits, making Steve an overnight sensation. But he doesn't let his newfound abilities or instant celebrity status go to his head. In fact, he handles the limelight with grace and humility.
Let us ponder at this point: with each and every personal triumph, will we handle the spotlight of success just as gracefully? We hope so, because "God opposes the proud but favors the humble." (1 Peter 5:5 NLT)
And thus is born a legend. Steve Rogers, the 4F ninety-pound weakling from Brooklyn, who refused to lose hope and give up on his seemingly impossible dream, begins a new chapter — as Captain America. In both the original Marvel Comics magazines and the big-budget movies based on them, "Cap" is the symbol of all that is good and right and noble in the free
world. He embodies the ideal that any one of us, no matter what our circumstances or social status, and regardless of any disability or disadvantage, can still achieve the great American Dream!
Cap is the personification of courage, determination, integrity, goodness and humility. He reflects the Judeo-Christian values upon which our nation was founded; the values of freedom, equality, family and faith which Cap's creators, Joe Simon and Jack Kirby, held dear. These values may not always be practiced, but we should always aspire to them. We must remember that "Godliness makes a nation great, but sin is a disgrace to any people." (Proverbs 14:34 NLT)
Captain America's optimism, "can do" attitude, patriotism, and sense of duty reflect the strong moral standards that defined what has been called "The Greatest Generation" — the people who endured the Great Depression of the 1930s and stepped up to serve during WWII; the kind of heroes depicted in Cap's handpicked special strike force the Howling Commandos. (We'll visit The Greatest Generation in an upcoming article.)
Fighting alongside Captain America, the Howling Commandos storm the strongholds of the enemy, confronting any threat to our freedoms, and ultimately preserving our way of "life, liberty and the pursuit of happiness." Cap and the Commandos remind us of the bravery of today's heroes, our military (both our veterans and active-duty personnel), our law enforcement officers, and our emergency first responders, who continue to make great personal sacrifices on our behalf. Jesus said, "Greater love has no one than this: to lay down one's life for one's friends." (John 15:13 NIV)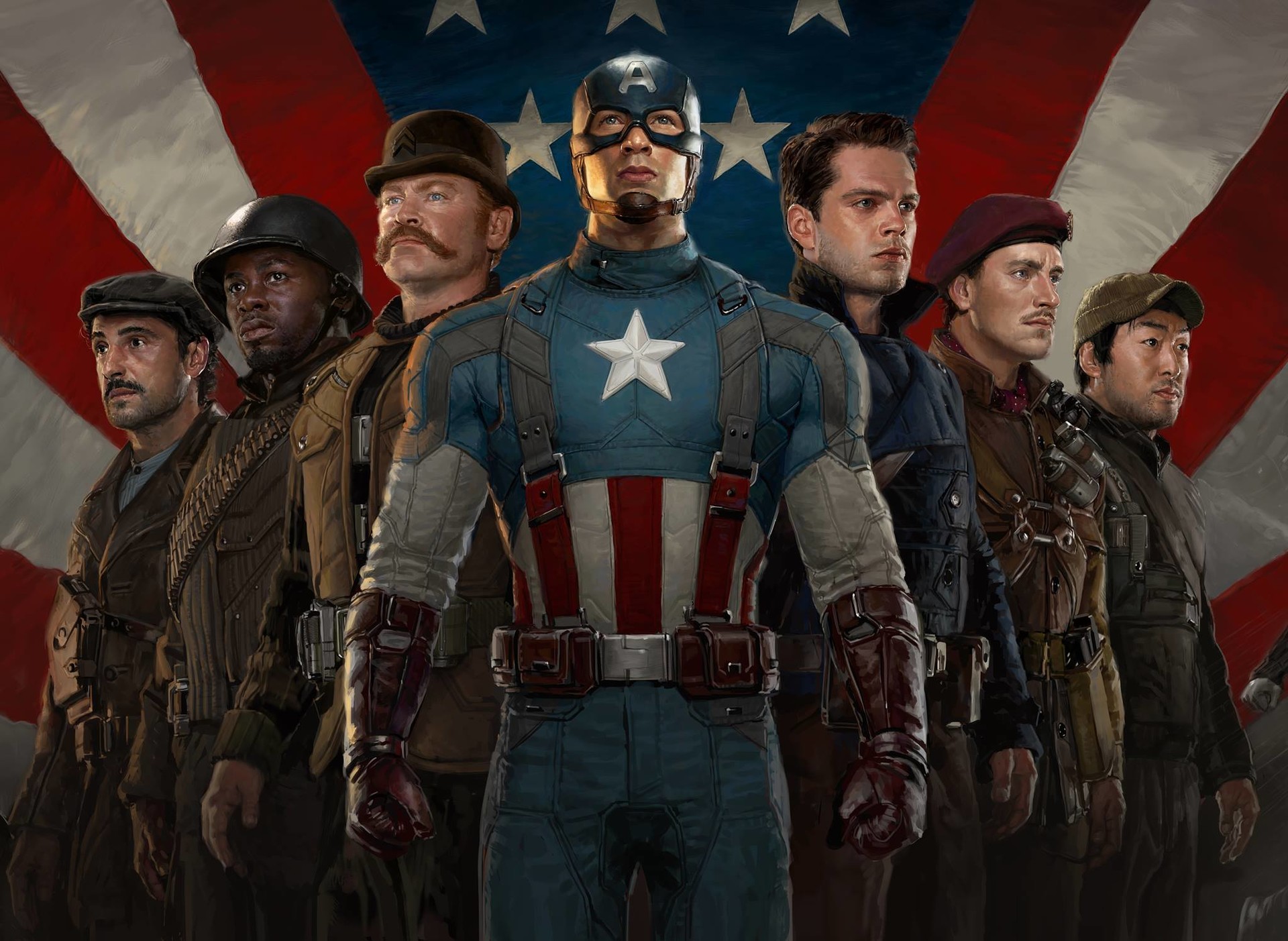 This is the ideal that prompted Steve Rogers' repeated attempts to join the U.S. Army, and which motivated him to do his patriotic duty throughout the movie. He expresses this profound philosophy when he tells his friend Bucky, at the New York World's Fair, "It's not about me."
Just as Steve came to this sobering realization, WE need to similarly realize that LIFE itself is not about us!
Fellow creators and dreamers, we have a Higher Calling, to do God's Will in all things. We acknowledge this calling in The Lord's Prayer, with the declaration "Thy Kingdom come, thy will be done, on Earth as it is in Heaven." (Matthew 6:10)
It's a hard truth, but our main purpose in life is NOT to realize our hopes and dreams. These matters and pursuits certainly are, however, a significant part of God's plan for us. But think of your big dreams and creative pursuits as just "the icing on the cake" the Lord has cooked up for
you. Indeed, He's prepared a great future for each of us, but the foundation of this future is that we mature spiritually and become more like Yeshua, the Son of God.
First and foremost, our Heavenly Father wants each of us to be "conformed into His image." (Romans 8:29) He also wants us to bring Glory to His name by reflecting, in our lives, His divine character (love, generosity, service, and sacrifice — the essence of hospitality)  through our gifts, talents, and resources … and through our creativity and dreams.
Like Captain America, who represented the best of the U.S.A., we are to represent the best of … well, the BEST: the Kingdom of God. As the Apostle Paul writes, "…We are ambassadors for Christ, as though God were making His appeal through us…." (2 Corinthians 5:20 AMP)