W
e dreamers and creators are always working toward a goal or dealing with a problem; waiting and hoping for answers and breakthroughs. Along the journey to realizing our hopes and aspirations we'll encounter opposition and setbacks, and we'll need to be able to endure delays and disappointments. Sadly, when "life happens," it's tempting to give up on our dreams and creative pursuits. If we want to stay the course and fulfill our destinies, we'll need the backing, encouragement, comfort, strength, and reassurance that comes from One greater than ourselves. To get this Divine support, we'll need some basic training … to follow several important spiritual steps.
6. Trust God for Guidance
Now that you have faith that God will empower your creativity and fulfill the vision He gave you, and now that you're daily communicating with God, it's time to follow His lead — wherever it takes you. Even if the direction in which He's leading you doesn't seem the right way to go; even when God's counsel seems foolish, perhaps outlandish; even when His advice goes against conventional wisdom, it's vital that you trust your Heavenly Father and follow His good guidance. Doing so will depend on your obedience to:
"Trust the LORD with all your heart, and do not rely on your own understanding." (Proverbs 3:5 GOD'S WORD) In other words, when pursuing your goals and dreams, you need to let God steer! Simple? Hardly. Once you're accustomed to being in the driver's seat, it's difficult to move over to the passenger side. And even after you do, you may find yourself wanting to go faster (or slower), or to turn "here" instead of
"there"; and there's a good chance you'll also spend a lot of time looking in the rearview mirror, still contemplating many of the places and opportunities you've passed.
It's usually hard to deviate from the plans we make, or act in ways that are contrary to our own ideas and desires. But that's where faith comes into play. We need to believe that God knows exactly what's right for us: where we need to go, who we need to meet, how we need to proceed. And how long it should take to reach our goals. Nonetheless, faith demands that we trust our Heavenly Father in all things, knowing that His way is the perfect way:
"A person's steps are directed by the LORD, and the LORD delights in his [or her] way." (Psalm 37:23 GOD'S WORD)
"After He has gathered His own flock, He walks ahead of them, and they follow Him because they know His voice." (John 10:4 NLT)
"And if you leave God's paths and go astray, you will hear a voice behind you say, "No, this is the way; walk here." (Isaiah 30:21 TLB)
Remember, every great invention or innovation, every brilliant idea or achievement, and every masterpiece of creativity or engineering, was accomplished by someone who was willing to think outside the box. The "box" is built from preconceived notions, old ideas, and a narrow point of view. It's walls are reinforced by rigid thinking, stubbornness, and the fear of failure. Unfortunately, most people find the box a comfortable and secure place, so that's exactly where they stay.
The Apostle Peter stepped out of the box — and the boat — when His Lord, Jesus Christ, beckoned His disciple to join Him for a walk across the water. Simon Peter had to shrug off fear and logic, and leave comfort and security, to step out onto the Sea of Galilee. Once he did, he out-distanced the other disciples who remained behind. Yes, the apostle eventually started to sink, because he again allowed his narrow-minded view of life and its circumstances to weigh him down, but God applauded his faith and courage to break away from the ordinary and follow His lead.
Although none of it ever made "good sense" or seemed like the right way to proceed: nevertheless the Patriarch Abraham and his wife Sarah left behind everything they knew, to blindly follow God into the wilderness, where they inherited a fertile land of milk and honey (Genesis 12-17); Moses nevertheless paved an unlikely path for his people to escape the bondage of Egypt, when he parted the waters of the Red Sea (Genesis 14:16); and a young shepherd named David took the first step on the road to being a king, when he toppled the gargantuan and previously undefeated warrior, Goliath, with a single stone hurled from a crude slingshot (1 Samuel 17:40-51). Challenges met and obstacles overcome, dreams fulfilled and history made, all were the result of trusting God and following His lead.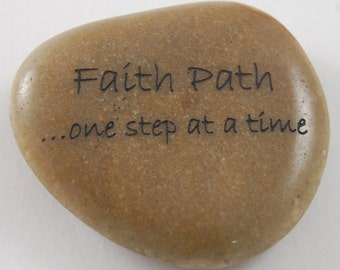 So, are you searching for a fertile land? Do you have a "Red Sea" that needs parting? Are you facing gargantuan challenges and struggles? Step out of the box of what's comfortable and familiar, safe and sound; step out of the box of following the wisdom of the world, or stubbornly doing things your own way. Instead, listen to God. Follow the course He sets for you — especially in the pursuit of your dreams and all your creative activities.
Walk in harmony with the Lord, always trusting in His faithfulness and sound guidance. Determine in your heart and mind, "…I am trusting you, O LORD, saying, 'You are my God!' My future is in your hands." (Psalm 31:14-15 NLT)