In regards to your creativity, do you ever feel overlooked and unappreciated? Or that your gifts and talents are being marginalized, and your efforts minimized? Do you feel people have underestimated you, and perhaps even misunderstood you? If so, you're not alone.
We know of an accomplished Canadian performer who, at one time or another, probably entertained similar notions. He began as a Shakespearean stage actor and made his broadway debut in 1956 to positive critical reviews, and then quickly graduated to supporting parts in two major movies: opposite Yul Brynner in The Brothers Karamazov; and with Spencer Tracy in Judgment at Nuremberg. He was excellent in both films, but additional A-list movie roles failed to materialize — a curious thing, indeed, given his skill and leading-man good looks.
But the talented actor persevered and even flourished in a string of guest appearances on the finest television dramas of the early 1960s. He delivered a wide spectrum of remarkable performances in series such as Alfred Hitchcock Presents, Rod Serling's The Twilight Zone, and Dr. Kildare. Eventually he got his own weekly show, a popular science fiction adventure series that made his name a household word. Unfortunately, many of the scripts William Shatner received during his three-year run on Star Trek, playing the swashbuckling larger-than-life Captain Kirk, called for some over-the-top performances. Shatner was more than up to the task, and his work helped viewers to easily suspend their disbelief.
In the process, the actor got a reputation for chewing the scenery and hogging the camera. It's easy to buy into this assessment, but his role practically demanded as much. And adding insult to injury, Shatner, who'd easily "owned" the part after only a handful of episodes, made what he was doing look so easy and natural that viewers soon decided the man wasn't acting at all; he was simply playing himself!
Following Star Trek, Shatner starred in a few B-flicks and several made-for-TV movies. He was usually better than the material he was given, but no matter how hard he worked — and he was absolutely brilliant in The Andersonville Trials — he was never able to shake the general public's perception that regardless of what he did, he was just being William Shatner. That was more than enough for many viewers: Shatner had been transformed into a pop-culture celebrity! But it greatly diminished the actor's talents and abilities.
Shatner quickly branched out in a variety of directions, such as hosting and narrating documentaries, in which his distinctive voice and … method … of delivery … were unmistakable! He wrote several best-selling novels, produced and directed in television, and even recorded a couple of LPs on which he sang — sort of!
Some people loved him, while others couldn't take him seriously. But Shatner began to boldly humor any detractors by playing off their silly notions of who he was. Shatner the talented actor started playing Shatner the foolish and hammy hack! This led to a series of lucrative commercials for Priceline.com that showcased his comic timing and bolstered his popularity. He also got on the radar of the producers of the series The Practice, who snatched him up in 2004 for the role of ultra conservative attorney Denny Crane, a part created just for Shatner. And he was so good in the part that the character was spun off into his own show, the phenomenally popular Boston Legal, which ran 5 seasons and netted Shatner two Emmy Awards and a Golden Globe!
When the actor accepted the first of his Emmy Awards, he gazed at the audience and humorously asked, "What took you so long?" It's a fair question. Shatner has been performing since the mid-fifties. That's over 60 years of stellar work on the stage, screen, and tube! What had changed? Certainly not Shatner. He's always been a tremendous talent.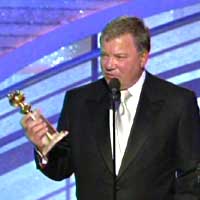 Was it the timing? Or a fresh perspective on the part of audiences?
Let's ask again, are you feeling overlooked, unappreciated, minimized and maybe even misunderstood? If so, (and we'll state it the way Shatner might say it) then you … our dear, creative … friend … are in … good company!
"And let us not grow weary of doing good, for in due season we will reap, if we do not give up." (Galatians 6:9 ESV)