Never let your head hang down.  Never give up and sit down and grieve.  Find another way.  And don't pray when it rains if you don't pray when the sun shines. —Satchel Paige
He attracted record crowds wherever he pitched, and for close to 15 years and throughout countless innings, he was considered "unhittable"! Today, decades after he reigned on the pitcher's mound, his fastball is still the stuff of legend. According to a 2010 article in Sports Illustrated, Leroy "Satchel" Paige (July 7, 1906 to June 8, 1982) was "perhaps the most precise pitcher in baseball history — he threw ludicrously hard. And he also threw hundreds and hundreds of innings."
In 1971, Paige was inducted into the Baseball Hall of Fame — the first African-American player to earn the distinction. In 1981, veteran actor Louis Gossett Jr. portrayed the pitcher in the biopic Don't Look Back. In 1999, Paige was ranked Number 19 on a list of the 100 Greatest Baseball Players. And in 2006, he was further honored when a statue of Satchel Paige was unveiled in Cooper Park, in Cooperstown, New York.
But of far greater interest, Paige was positive proof that sometimes dreams can take years to completely achieve — but you're never too old to pursue them! The world-famous pitcher had practiced, played, and pursued baseball since he was 10 years old, batting around discarded bottle caps with a stick, always dreaming about the diamond sport. His mother once commented that Satchel would rather "play baseball than eat. It was always baseball, baseball." And yet, it took nearly four decades for him to make the big leagues!
Along the way, Satchel encountered a few bumps in the road to success. He earned his nickname as a kid, while carrying luggage at a train station. Because he could only earn a dime for each bag he carried, the youth devised a clever means of making more money to help support his struggling family: he would place two bags at each end of a sturdy pole, and then carefully lift the pole to his shoulders. Walking through the station while balancing the weight of four bags was backbreaking work! And one of his fellow porters remarked that Paige looked like a tree that was growing satchels!
There were other, moral and emotional, struggles the youth faced. After frequently skipping school and occasionally shoplifting, Paige was arrested at age 13 and committed to reform school — for five years. But the determined dreamer spent those years practicing baseball with a savvy Alabama coach who helped Paige develop a great deal of his pitching strategy. Talk about God working all things together for good! (Romans 8:28)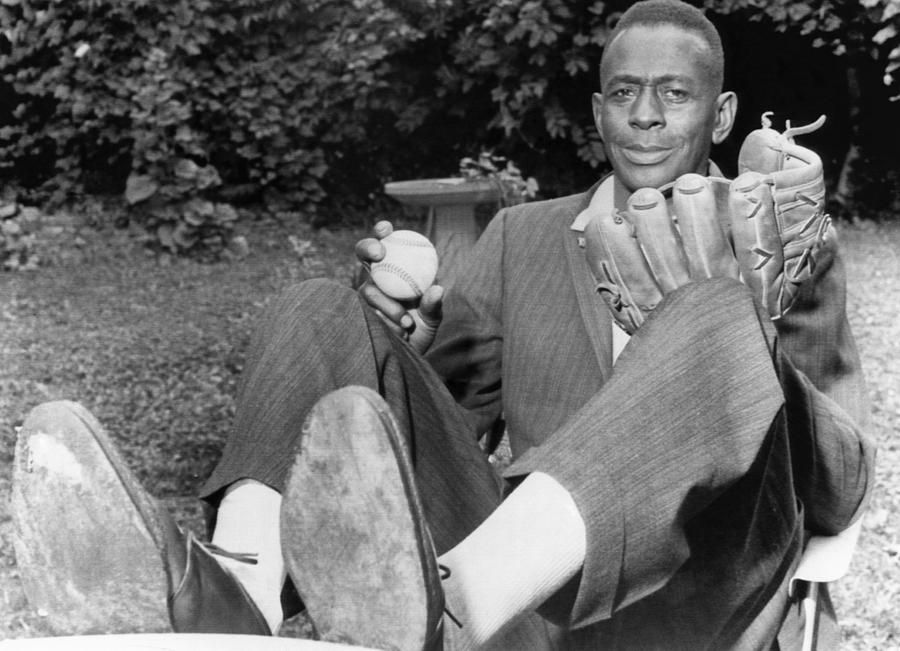 Paige also had to deal with racism and bigotry. Throughout the 1920s and 30s he played only in the "Negro Leagues." He also pitched in exhibition games for barnstorming teams across the United States; and he even played baseball in Puerto Rico, Mexico, Cuba, and the Dominican Republic. But it wasn't until 1948 that he signed his first big league contract, for $40,000 with the Cleveland Indians. Thus, at the age of 42, Paige became the oldest major league rookie in baseball!
The journey to fulfilling his dream had been long and difficult, but Paige felt he was still "young" enough to make the most of his success. He played baseball until he was 60! In fact, even after his "retirement," he stayed active in a variety of pursuits. He published his autobiography, coached, made appearances on TV game shows, and even ran (unsuccessfully) for a Missouri state assembly seat.
And in 1969, at 63, Paige returned to the mound for an exhibition game. Between innings he sipped coffee in the bullpen while resting in a rocking chair. But during the game he showed his stuff — and struck out another baseball legend, Don Drysdale!
Satchel Paige always pursued his life and dreams with the enthusiasm of a young man. Whenever a reporter would ask Paige about his advancing years, in regards to pursuing his love of baseball, the pitcher would simply reply, "If someone asked you how old you were — and you didn't know your age — how old would you think you were?"
Have you been chasing a dream for years? Do you wonder if you're getting too far along in life to ever catch it? Here's a thought we'd like to pitch to you. We call it the The Paige Pitch: You're only as old as you think — and you're never too old to pursue your dreams!
"I will be your God throughout your lifetime — until your hair is white with age. I made you, and I will care for you. I will carry you along and save you." (Isaiah 46:4 NLT)
"…The people that know their God shall be strong, and do exploits." (Daniel 11:32 ASV)