After a long winter, Spring has at last arrived! And with it, the dozens of hummingbirds that hang out with us every year, from April to around mid-September, to sip nectar from the six feeders we hang outside our windows.
T
his is also the season for Spring Cleaning, an opportunity to clean up, fix up, and freshen up! Yes, when Spring arrives everything starts looking up! We take the opportunity to also reorganize our kitchen shelves, exchanging our festive Winter place settings, which feature wild birds, for brighter plates depicting song birds. (Yes, we LOVE birds!) We also go through the pantry to check the expiration dates on canned and boxed goods.
We try to use up food items that are close to expiring, and toss anything that's gone out of date. We hope you, too, frequently check the expiration dates on foods in your kitchen, because one of life's sad truths is that everything we buy to prepare our families' meals has a pre-determined shelf life. (You're gonna love where we're heading with this analogy, but first….)
Not long ago, we heard a news story about a sweet 77-year-old Italian lady who inadvertantly poisoned her son and three grandchildren, ages 8 to 12, all because she was oblivious to the expiration date on some packets of hot cocoa. Her "victims" fell ill to vomiting and diarrhea, and soon ended up in the emergency room where they were treated for food poisoning! Turns out the cocoa had expired … 25 years ago! But what's amazing is that we don't hear about this sort of thing more often.
Life is hectic, and who has time to pay attention to all those tiny dates printed in often obscure places on the labels of the foods we buy? And because it's generally out of sight, all the stuff hiding in the farthest reaches of our kitchen cabinets, is also generally out of mind. Who knows what evil lurks in the shadows of the cupboard shelves! Flour and bread crumbs can harbor grub worms, jars can lose their vacuum and grow mold. And in the refrigerator … oh, the horrors of out-of-date dairy products! Even the nectar we put out for our hummers has to be changed daily when it's hot (and the feeders cleaned), or bacteria harmful to the birds will start to grow.
So, unless we want to poison the people we love, we need to check the dates! Unless we want the promise of a comforting mug of hot chocolate to turn into a trip to the doctor, we need to take stock of our shelves at least once a year and the fridge about monthly.
How often should we take stock of God's promises? Daily is wonderful, because we can all use a daily helping of encouragement. But unlike food, God's promises don't come with expiration dates. Our Heavenly Father is into long-term agreements. In fact, His covenants and commitments are "everlasting"! He keeps His promises. Period! "O LORD, God of Israel, there is no God like you in all of heaven and earth. You keep your covenant and show unfailing love to all who walk before you in wholehearted devotion." (2 Chronicles 6:14 NLT)
"Your kingdom is an everlasting kingdom, and your dominion endures through all generations. The LORD is trustworthy in all he promises and faithful in all he does." (Psalm 145:13 NIV)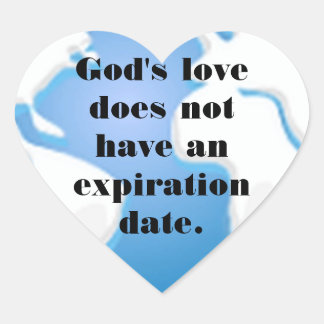 God's love doesn't have a limited shelf life. His LOVE, MERCY, and GRACE stay FRESH! "Great is his faithfulness; his mercies begin afresh each morning."(Lamentations 3:23 NLT)
"I have loved you, my people, with an everlasting love. With unfailing love I have drawn you to myself." (Jeremiah 31:3 NLT)
Claim God's fresh, eternally-lasting promises today! They never get stale or go bad!