Sometimes having a big budget really pays off. Other times….
RKO Pictures once enjoyed status as one the major Hollywood studios. A few of us may remember the studio chiefly for the legendary 1933 film King Kong, a special effects extravaganza that astounded moviegoers in its day. RKO also was famous for its madcap romantic comedies, and had produced a string of popular and profitable movies starring Ginger Rogers and Fred Astaire. At some point, however, the studio went into a financial nosedive: a handful of artistic giants had made their way into the control tower at RKO.
Bigger became a production byword at RKO, and in 1941, after giving free reign to director Orson Welles, the studio released its biggest picture yet, Citizen Kane; and although the movie was a critical success — today it's considered one of the greatest movies ever made — it lost mega-money at the box-office. (Quick, someone say "Rosebud!") A few months later RKO followed up with another commercial failure directed by Welles, The Magnificent Ambersons. Like Citizen Kane, the picture was critically acclaimed but came in way over budget. RKO quickly aborted Welles' third film, but the damage had already been done. RKO had lost close to $2 Million.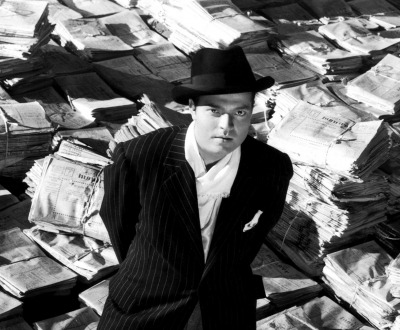 RKO needed to get out of debt, fast!  But to do so they needed to make some profitable movies — on shoestring budgets. Tarzan would help save the day. Johnny Weissmuller swung into the role and starred in six crowd-pleasing movies for RKO that made use of stock footage of African wildlife. George Sanders and his brother Tom Conway also did their parts, in numerous entries in the inexpensive but highly entertaining mystery franchises The Saint and The Falcon.
The real savior of RKO, however, was Val Lewton. This little-known filmmaker had worked on the classics A Tale of Two Cities and Gone with the Wind. When Lewton arrived at RKO he found he had his work cut out for him. At a time when the other major studios were producing movies with budgets of over $500,000 each, RKO asked Lewton to make them a movie for less than $150,000.
On top of that, RKO wanted a horror picture, because Universal Studios was having so much success with their slew of Frankenstein and Mummy movies. Then, just to add insult to injury they saddled Lewton with a title for the picture, "Cat People"! Lewton probably shook his head in disbelief and asked "Seriously?" But instead of walking he started working: he assembled a team of writers and directors that included Robert Wise, who'd go on to later fame and fortune directing The Sound of Music and Westside Story.
In 1942, the horror picture Cat People, directed by first-timer Jacques Tourneur, premiered. Val Lewton had produced the movie with the improbable title, but had worked from an original screenplay based on his own 1930 short story "The Bagheeta." The film was moody and atmospheric, but there were no monsters and nothing at all grisly took place in front of the camera. Lewton had seen an opportunity and had taken the initiative; but instead of making a run-of-the-mill horror movie, he had created a psychological study that relied more on imagination than special effects, and on ingenuity to overcome obstacles.
RKO probably looked at the movie and wondered what had they gotten themselves into now. But Cat People, costing a mere $141,659, brought in almost $4 million in its first two years. And Val Lewton? He had saved the studio from financial disaster. RKO quickly rewarded their savior, by asking Lewton to continue to make really inexpensive horror movies with really stupid titles. And definitely the worst title RKO stuck Lewton with: I Walked with a Zombie!  Lewton didn't let it ruin his day. He made another incredibly intelligent and memorable film. And before he left the studio, Lewton had made eight of the coolest, most highly regarded movies in RKO's history.
Imagination will always trump budget; and initiative and ingenuity will win the day. So no matter what you're facing, keep your chin up. And seize your opportunities. Above all, "Do not despise these small beginnings, for the LORD rejoices to see the work begin…." (Zechariah 4:10 NLT)