He was the quintessential storyteller, a young man who created highly original characters, plotted fantastic tales, and then illustrated his ideas with an energy that made his art pop off the pages of books and magazines. And he worked with lightning speed, meeting nearly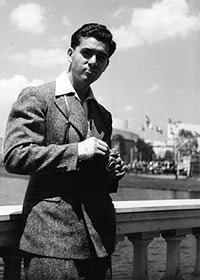 impossible deadlines while doing the creative work of several people. Almost literally!
He wrote and drew science fiction under the name Curt Davis; Westerns as Fred Sande; swashbucklers as Jack Curtiss; humor as Ted Grey; and children's material, such as "Socko the Seadog," as Teddy. He was so prolific, wore so many hats and created under so many names that one of his publishers once stated: "He worked like a demon!"
However, this jack of all trades in storytelling was destined to make his mark under yet another name, in a medium with which, at the time, very few wished to be associated. He would leave a legacy of both art and ideas, and characters that are still popular today, fifty to eighty years after their creation — but his path to success (and a form of literary immortality) was at first a bumpy road, littered with a few aggravating obstacles.
Like most Jews looking for professional work during the 1930s and 1940s, Jacob Kurtzberg found that despite his incredible talent, many doors were automatically closed to him. But Jacob was a fighter; a trait he'd learned the hard way while growing up on the Lower East Side of Manhattan, New York.
Jacob was born on August 28, 1917, to Austrian Jewish immigrants. His father worked in a garment factory, hence managing to eke out a meager but comfortable living. The Kurtzbergs, however, had little money to indulge their son's dreams of escaping his rough neighborhood by pursuing a career as a commercial artist, so young Jacob was forced to learn his craft by imitating the advertising art and comic strips he found in newspapers. He imitated what he saw, and he practiced every spare moment. Although he was inspired by other artists, he quickly developed his own unique style. And although he never did get to attend art school, his work was admired by those who had.
Jacob was truly a self-taught "master." Again, he had to be. When he was fourteen he enrolled at the Pratt Institute in Brooklyn, but after a single week he walked out, later stating, "I wasn't the kind of student that Pratt was looking for." And next, he was rejected by the Educational Alliance — because he drew "too fast"!
Sometime in 1936, Jacob started writing and drawing for a relatively new medium that was beginning to catch on with both kids and young adults: comic books. Most professional artists looked down on this new medium, viewing comics as a crude form of throwaway entertainment, and a definite step down from just about everything else. Hence, most artists wanted nothing to do with comics. Which was a very good thing indeed for hungry Jewish artists!
Just as dealing with money was once considered a dirty business in centuries past — hence leaving the banking profession wide open to savvy Jewish accountants — working in comics was similarly considered beneath one's dignity. So dozens of Jewish writers and artists entered on the ground floor of what was soon to become the source of a booming entertainment industry. And most of the greatest superhero characters, including Superman, Batman, Spider-man, and the X-Men, eventually flowed from the unique perspective of these Jewish creators.
Jacob Kurtzberg was one of the first. He went to work for Timely Comics where he met one of his best collaborators and lifelong friend, Joe Simon. (Yes, another Jew!) The two men worked together seamlessly, creating characters and comics titles still being published today. Their comics sold millions of copies, the duo quickly earned a reputation for creating "can't fail" super hits, and ultimately their publishers and editors gave the two men creative carte blanche, saying "Just do what you want to." And they did — for close to two years — up until America entered WWII.
Both Jacob and Joe were anxious to contribute to the war effort. They wanted to do their part in striking a blow against Adolf Hitler, who was busy systematically murdering the Jewish people. Both men served their country admirably, and for his part, Jacob accepted a dangerous assignment as an advance scout, entering German-occupied territory to … What else? … draw maps for the U.S. troops!
But long before their military service, Jacob and Joe managed to strike a blow against Hitler in the comics. They created a patriotic super-soldier who was garbed in the American flag and carried a red, white and blue shield; who would defend the world from tyrants and madmen. They created Captain America — one of the most iconic characters in pop culture. And even as the American government vacillated about entering the war, and while mainstream magazines shunned the controversy of depicting Hitler in a bad light, Joe and Jacob (this time working under the name of Jack Kirby) depicted, on the cover of Captain America #1, a victorious "Cap" knocking out Hitler with a good right cross!
When he returned from the war, Jack "King" Kirby continued to "win" big in the world of comics. He helped to create the Avengers and the X-Men, the source material for two separate multi-billion dollar movie franchises! This legendary comic book creator, revered by fans the world over, had a rough start. Economics and ethnicity tried to hold him back, but Jack was a fighter! He made the most of his opportunities, and he bloomed where he was planted — on ground he made fertile with his own imagination; the creative ground of comics which, at the time, most writers and artists didn't care to cultivate.
Whether you create in words, music, art, or even food; whether you're an inventor or an entrepreneur, an actor or a singer, take up the shield of your faith, talent, and imagination. Join the good fight of creators everywhere. Follow the example of Jack Kirby, the once and future King of comics art!
"…The people that know their God shall be strong, and do exploits." (Daniel 11:32 ASV)