We all have hopes and ambitions in life — dreams of achieving great things. But sometimes the road to fulfilling our fondest dreams takes us to unexpected places. These places may be momentary detours or side stops on the way to our final destination; but occasionally the "side stop" ends up actually being the end of the journey, the place where we'll make our mark in the world. We can't always be sure if and when this is the case. We can, however, make sure that we take advantage of every opportunity that comes our way, even if it's not the perfect fulfillment of the dream, or the best use of our gifts and talents.
Many of us have "day jobs" which pay the bills while we wait for our "big break" in life. But will we recognize that one great opportunity when we see it? Not always. So it's important to be open to the "detours" and "side stops" we encounter; to use our time and talents wisely, but also to be willing to use them in less than ideal situations which, at first glance, may seem far short of where we want to be.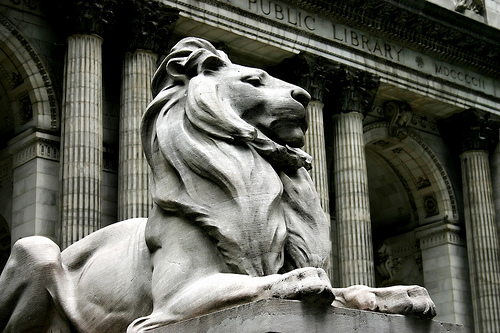 This means allowing God to use us when and where He needs us. And that means making ourselves available — always faithful and humble, especially with respect to our God-given abilities. It also means being a servant. Above all, it means approaching every job, no matter how insignificant it may seem, with energy and enthusiasm, always doing our best, always giving 100%!
Israel Schnapt understood these principles well. He was an 18-year-old Jewish graphic designer and engraver who emigrated from Austria to the United States in 1910. After arriving in New York, he simplified his name to Ira Schnapp and started looking for work. Schnapp held a variety of jobs, including designing and engraving U.S. postage stamps, and lettering the filmed title cards for silent movies.
Schnapp was also a highly skilled stonecutter, and in 1911 the City of New York hired him to design and hand-carve the lettering above the main branch of its library: MDCCCXCV • THE NEW YORK PUBLIC LIBRARY • MDCCCCII. Three years later, Schnapp designed and carved this famous phrase above the entrance to New York'
s James Farley General Post Office: "Neither snow nor rain nor heat nor gloom of night stays these couriers from the swift completion of their appointed rounds." Due to the historic significance of these facades, Schnapp's contributions to Americana are impressive, but his greatest contributions to pop culture were yet to come.
In 1938, Ira Schnapp was offered a job at DC Comics designing title logos for its magazines. The great American comic book was still in its infancy, and working on so-called "funny books" wasn't exactly something to brag about. Schnapp could have easily and understandably rejected the offer. He'd already left some impressive and enduring marks on U.S. history, so to create the mastheads for what the general public considered lowbrow and "disposable" entertainment, was a huge step DOWN! But Schnapp was open to any legitimate venture that allowed him to use his talents. He decided to give the new opportunity a shot, and see what he could create in the new arena of comics.
Apparently, Schnapp soon discovered he actually enjoyed working for DC (—at the time, the company was called National Publications). He stayed with the publisher for 30 years, until he retired, lettering covers and creating dozens of inspired logos for comics, including such mainstays as Action Comics, The Flash, and Justice League of America. Along the way, Schnapp designed one of the most recognizable logos in the world: the stunning title for Superman comics.
Ira Schnapp left indelible marks on both the New York Public Library and comic book history. All because he was humble and open to new opportunities; because he made himself available; because he saw a need for his special gifts and talents and decided to fill that need. Because he knew the importance of making the most of every circumstance and situation.
Few of us can be certain when or where we'll make our big mark in life. Will that mark be left on newsprint or canvas, on TV or in the movies, in a boardroom or at a soup kitchen, on a military installation or in the mission field — or in the stone blocks fronting some public edifice? We won't know, really, until we reach the end of our journey and look back. So don't take chances; be open to all of those little detours and side stops you encounter along the way. And wherever you find yourself, always remember to bloom where you're planted.
"The steps of a good man are ordered by the Lord: and He delights in his way." (Psalm 37:23 New King James)