We often hear of the writer's muse, a personal source of inspiration that guides his or her creativity. A muse can be a person, a memory, or an ideal that informs an artist's work, and we're reminded of certain classic depictions of poets and painters as frustrated souls who are stirred by old melodies, or haunted by the faces of lost loves. Can't you just imagine Edgar Allan Poe scribbling away by candlelight as a raucous raven screeches outside his window? Never More!
In Ancient Greek Mythology, the Muses were nine goddesses of inspiration in literature, science, and the arts. Each one had jurisdiction over a particular branch of creativity, and together were sort of like the patron saints of their day. Poets and sculptors were known to invoke the Muses at the start of any new works, in the hopes that these spirits would spark their creativity and guide them in their artistic endeavors. How nice to have a god directing your creative steps, right?
Do you have a muse? The great composer George Frederick Handel did. The Baroque composer was born in Germany in 1685, trained in Hamburg, honed his craft in Rome, and eventually relocated to England, where he became a naturalized British citizen in 1727, and where he created his greatest works, including Water Music and Music for the Royal Fireworks.
Throughout his long and industrious career, Handel was both critically and popularly acclaimed. And He died extremely rich and respected. We should all be so blessed. Uh, to be rich and respected, that is! But what was the great composer's secret? As with most artistic geniuses, it was his creative muse.
In 1741, Handel was tasked with composing an oratorio to accompany "a meditation of our Lord as Messiah in Christian thought and belief." The composer realized the text he'd been given was both scripturally-authoritative and "a work of genius"; so he cloistered himself and, in a fevered burst of creativity, composed the monumental Messiah — in just 24 days!
Composers of Handel's time were known to write music at a furious pace, but finishing Messiah in 24 days is an astonishing, nearly miraculous feat of creative energy. The manuscript, which is now proudly exhibited in the British Museum, contains crossed out lines, smudges and inkblots, all of which attest to the composer's haste. And yet, given its length and complexity, there are  remarkably few errors. When it was completed, Handel signed the masterpiece "To God alone the glory."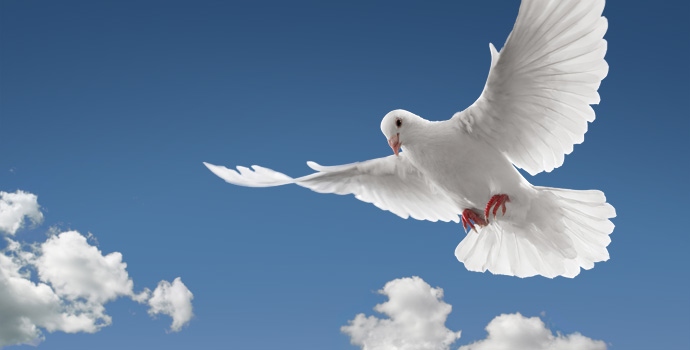 Given the speed of its composition, its magnificence, and Handel's sobering inscription, many believe the composer wrote Messiah in a fervor of divine inspiration. So who was Handel's muse? Why, none other than the Holy Spirit of God! "[For] there is a spirit in man: and the inspiration (breath) of the Almighty God gives them understanding." (Job 32:8 AKJ)
Through God, all things were created, and the Holy Spirit is essentially the breath of God. In fact, the term spirit comes from the Hebrew word ruach, meaning breath and life. The Holy Spirit performs many roles in our world: He revives us spiritually, comforts us in times of need, and guides us into all truths. But the Holy Spirit also brings perspective and direction; He inspires us, gifting believers with fresh creativity.
Indeed, our Heavenly Father announced, "I will pour out my Spirit on all people. Your sons and daughters will prophesy, your old men will dream dreams, your young men will see visions." (Joel 2:28 NIV) Of course, the Holy Spirit's ability to bless us with creativity should be a no-brainer, because He actively participated in the creation of the universe (Genesis 1:2) — and He dwells in each and every person who puts their faith in God through the redeeming work of His son Jesus Christ! That's good news for writers, artists, and anyone else who hopes to "create" something lasting.
Most assuredly, Handel's Muse accompanied the great composer when he traveled to Dublin several months later, where he performed Messiah for the first time ever, to a packed house of 700 music-lovers, in a concert the sole purpose of which was to raise money for charity. Messiah was unanimously praised following its premiere, with the newspapers of the day reporting, "Words are wanting to express the exquisite delight it afforded to the admiring and crowded audience"; "[It] far surpass[ed] anything of that Nature which has been performed in this or any other Kingdom"! Together Handel and his muse raised enough money to fund three charities, including a local hospital, and secured the release of 142 men and women from debtors' prison!
Today, more than 250 years later, Handel's Messiah is still being performed to packed houses of appreciative listeners — who quickly, and in one accord, rise to their feet at the majestic "Hallelujah Chorus"! It's become an annual Christmastime tradition — one of our personal favorites — and stands as a heartfelt acknowledgment of the greatness of God the Father, the Son and the Holy Spirit; as well as a testimony to the wonderful creative fruits that can be birthed when a talented artist calls on the Heavenly Muse.
Dear fellow creators, have you tapped into the power of THE Creator? The Holy Spirit can be your muse, too! Ask God to inspire and equip you. Ask your Heavenly Father to grant you His Holy Spirit!
"God also testified to it by signs, wonders and various miracles, and by gifts of the Holy Spirit distributed according to his will."  (Hebrews 2:4 NIV)