His prose is a bit unpolished, and his seemingly innumerable novels are filled with shady, two-dimensional characters and outlandish plots. And yet, his sensational tales unfold briskly, with a raw narrative energy that swept readers into the heart of the story; a narrative energy which was unmatched by his contemporaries — including Dorothy L. Sayers, who criticized the writer for distracting the average reader from better (more literary) works. However, among working class men throughout the 1920s, along with their long-suffering wives, each of his novels was eagerly anticipated and
devoured with great relish. In fact, one of his publishers once stated that one out of every four novels being read in England at any given time, was an Edgar Wallace thriller!
This statistic is no doubt due to the writer's staggering output: 170 novels, 957 short stories, 18 stage plays, plus historical nonfiction, poetry and screenplays. Wallace, who was born in London in 1875, was so amazingly prolific that by 1929 he was publishing close to three dozen books a year! He could complete a novel in 72 hours — increasingly motivated by the need to pay off the many loan sharks who fed Wallace's addiction to gambling on the horse races! But how exactly did the man do it? How could he be so productive and still have time to run for Parliament?!? Determination, fortitude, a need for money, and a good working system.
Before discussing his writing methods, we should cover the obstacles he overcame to become a best-selling novelist: Edgar Wallace was born into poverty. He was the illegitimate child of traveling actors, a scandalous and stigmatizing fact in the 1890s. His mother quickly placed him with a family that already had 10 kids; and as a result, he was brought up in a poor and uneducated household. His life in the slums greatly affected his health and stunted his growth; and thus, when he was eventually shipped off to a boarding school, he was constantly bullied and frequently beaten. So Wallace "escaped" from the world of formal education at age 12.
Along his journey to success, he sold newspapers and delivered milk, worked in a rubber factory and served as a ship's cook. He went to South Africa with a British regiment, finagled a transfer to the Royal Army Medical Corps; and later became a war correspondent, a post from which he was fired. Then he became a publisher, a position from which he went in debt. Through it all, he endured several personal tragedies, including the death of a daughter, the death of a wife (after only 2 years of marriage), the divorce of a second wife, and … Sigh! You get the picture.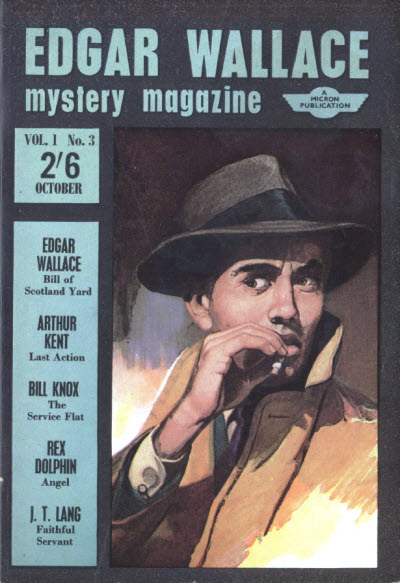 Wallace finally met with some good fortune once he realized his forte: fiction writing. Perhaps he even found a way to escape, at least for brief periods, his many misfortunes. He'd lock himself away for days at a time, dictating his novels onto wax cylinders. During the process he'd drink 30 to 40 cups of tea a day, while smoking 80 to 100 cigarettes! (Please don't try this at home!) Later, Wallace would have his secretaries transcribe the recordings. There was no editing — Wallace hated editing. His publishers must have hated editing too, because after doing nothing more than a little fact checking here or there, they published every single word the man wrote!
Wallace's novels have sold over 50 million copies. His fiction has been adapted for 160 films or television shows. Although he's mostly forgotten today, he's considered one of the greatest 20th-century writers of the thriller — and certainly the most prolific. He was the first British crime writer to depict the police heroically solving mysteries, as opposed to the amateur detective so popular in the fiction of his day. He wrote the screenplay for the first sound movie version of The Hound of the Baskervilles, and eventually became a script doctor for RKO Studios. But Wallace's greatest claim to fame will always be "The Eighth Wonder of the World"!
Wallace had a creative hand in the development of one of the most iconic fictional characters ever presented on celluloid: KING KONG! He was called in early in the development of RKO's classic 1932 "monster" movie, and he's responsible for taking the giant gorilla all the way to the top … of the Empire State Building!
So, take inspiration from the writer who never allowed the adversities of life to keep him from creating — who persevered through sweat and tears to leave behind a tremendous body of work. "Ape" his determination and fortitude. Once you do, there'll be no stopping you. You'll climb to new heights — like Edgar Wallace and King Kong — of artistic, scientific, or entrepreneurial achievement.
"My heart is stirred by a noble theme … my tongue is the pen of a skillful writer." (Psalm 45:1 NIV)
"…I am as full of words as the speediest writer pouring out his story." (Psalm 45:1 TLB)