Who knew a movie based on a comic book could teach us so much about spiritual warfare, while inspiring us to keep pursuing our hopes and dreams? Captain America, the First Avenger, starring Chris Evans as the red, white and blue super soldier, is not only entertaining, it's also an object lesson in some important Biblical truths.
The Marvel Comics superhero Captain America leaped into action in early 1941, when the first issue of his adventures hit the newsstands. That pioneering premiere issue immediately grabbed the attention of readers both young and old, because on its brightly colored cover, "Cap" was socking Adolf Hitler on the jaw. Today this only seems like the obvious thing to do: knock out one of the vilest villains of all time. But when Captain America Comics hit the streets, America was NOT at war with the Nazis.
The United States government didn't enter WWII until after the December 6, 1941 bombing of Pearl Harbor. In the meantime, news was arriving daily of Hitler's conquest across Europe, along with rumors of the atrocities being committed against the Jewish people — which, as many American Jews correctly suspected, were not rumors at all. But the big New York magazines were carefully sidestepping these issues. In fact, in 1938 Time Magazine named Adolf Hitler "Man of the Year" and had earlier plastered his puss on the cover of their April 13, 1936 issue.
Time again featured Hitler on a cover dated April 14, 1941, shortly after Captain America debuted, further demonstrating a general desire within the United States to continue looking the other way. But as we previously stated in Boot Camp, ignoring a problem doesn't make it go away — and it can end in disaster.
America's hesitancy to enter the war against Hitler was deeply disturbing to many, but especially to American Jews — in particular, two young men working for Timely Comics, the legendary creative team of Joe Simon and Jack Kirby. When their boss, Martin Goodman, another Jew, asked them to create a patriotic superhero who could compete with DC Comics' Superman, Joe and Jack introduced the world to Steve Rogers, better known as Captain America. And, in answer to those issues of Time and other news magazines, they decided to feature Hitler on the first cover of their own publication — getting knock on his … backside … by the world's newest righter of wrongs!
So now, fellow creators and dreamers, you know the backstory — all except for this part: after the U.S. finally entered WWII, Joe and Jack quickly enlisted to do their part. When they did, they left their Captain America character in the capable hands of a twenty-year-old creator named Stan Lee, another … um … Jewish comic book legend. But that's a story for another time.
Fast forward. In the movie, Captain America, the First Avenger, young Steve Rogers is a short, skinny kid — the classic ninety-eight pound weakling — with a medical history of numerous and assorted ailments. Steve wants to do his patriotic duty by enlisting, but after he's examined at the local recruiting office, he's told to "go home." Almost pleading, Steve, says "Look, just give me a chance."
The Recruiting officer responds, "You'd be ineligible on your asthma alone," and then stamps a big 4F on Steve's file.
Being labeled a 4F is a death sentence to Steve Roger's dream of becoming a U.S. soldier to fight against evil and oppression. But it's a fact, he's just too weak and scrawny for any branch of the Armed Forces.
However, when you have a big dream, even a seemingly impossible one, you can expect to encounter big obstacles. Undeterred, Steve tries over and over again to enlist. He applies in different cities, under different pretenses, each time falsifying his application. And each time he hears the same verdict: 4F !
And yet, despite all the rejections he's received, Steve keeps hoping. Despite the reality of his health and physical limitations; despite the disadvantages of coming from a lower-middle class family, of losing his parents when he was a teen; despite having no connections; despite being, in the eyes of society, a big 4F — a "nobody" — Steve Rogers never gives up. He continues to pursue his dream.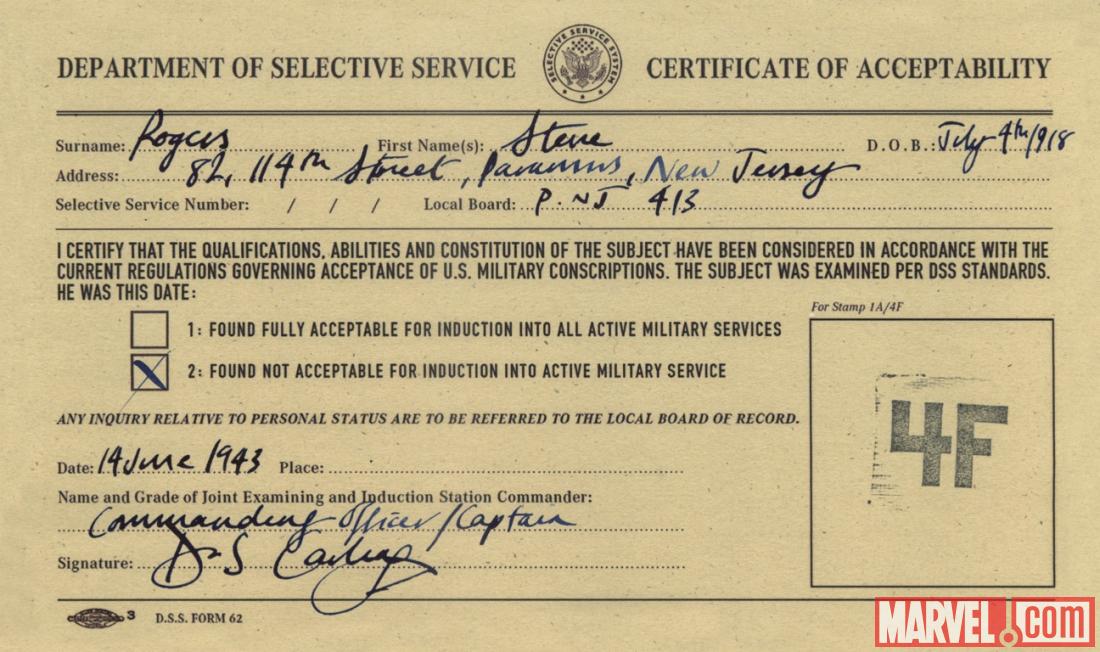 Fellow creators and dreamers (everyone), this is the kind of tenacity we must have in order to accomplish our goals and realize our hopes and dreams. Dreams demand determination! Because along the path to victory we'll face rejection, obstacles, and lots of closed doors. People will try to label us. They may even stamp us 4F, as not having what it takes to succeed.
Often, if you don't have a nice title, an impressive résumé, a sizable ministry, a solid platform, or the right connections, people will dismiss you and may even label you a "nobody." But our identity and self-worth are not determined by the negative opinions of others — whose values and attitudes are often influenced by the enemy of our soul, Satan.
Our loving Heavenly Father defines who we are: sons and daughters of the Most-High God: "…To all who believed Him and accepted Him, He gave the right to become children of God." (John 1:12 NLT) In God's eyes NONE of us are 4F nobodies!
"The LORD will make you the head, not the tail. If you pay attention to the commands of the LORD your God … and carefully follow them, you will always be at the top, never at the bottom." (Deuteronomy 28:13 NIV)
"Thank you for making me so wonderfully complex! Your workmanship is marvelous–how well I know it." (Psalm 139:13 NLT; See also Ephesians 1:6)
Once we become followers of Christ, we have access to all He has and all He's done for us. After all, we are "joint heirs with Jesus Christ" (Romans 8:17); seated with Him in Heavenly places. (Ephesians 2:6)
Nevertheless, as we previously discussed, if we continue in our stinking thinking we tend to focus on our weaknesses and deficiencies, and on what other people say. On what we lack instead of what we possess in Christ. The Apostle Paul writes, God said to me, 'My grace is sufficient for you, for My power is made perfect in weakness.' …That is why, for Christ's sake, I delight in weaknesses, in insults, in hardships, in persecutions, in difficulties…. For when I am weak, then I am strong." (2 Corinthians 12:9-10 NIV)
Counterintuitive? No, because we should always rely on His strength. When we do, He gives us the victory. We don't need to have it all together. As we encounter the challenges of life — and engage in spiritual warfare — we need to depend on His grace in order to enjoy a triumphant life. By the way, GRACE means unmerited favor, manifested through supernatural strength and power. It's what enables us to live a faith-filled life.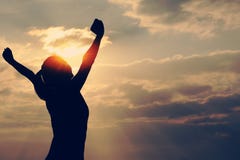 Your present circumstances might be less than advantageous. The facts may not be in your favor. But we don't depend on facts and circumstances alone. "For we live by faith, not by sight." (2 corinthians 5:7; Habakkuk 2:4) We don't deny the facts, but we rely on God to determine the outcome in every situation, trusting that He can and will change our present reality by "working all things together for our good." (Roman 8:28)
God always has the final say, not people — and certainly not the "father of lies": Satan. (John 8:44) In the natural state of affairs, we may be disadvantaged. The odds may be stacked against us, as they were with Steve Rogers. But in the spiritual realm, we have a definite advantage that carries far more weight than our present circumstances.
Like Steve, we may have a seemingly impossible dream, but as stated earlier, throughout our journey we can remain confident that we serve a God who makes a way where there seems to be no way.  (Isaiah 43:16-17) A God who "opens doors that no one can shut." (Rev 3:8 NIV)
Got impossible dreams? "Humanly speaking, it is impossible. But not with God. Everything is possible with God." (Mark 10:27 NLT) So stay in faith and never give up! A day will come — as it did for Steve Rogers — when you'll get your chance, and experience a breakthrough!