"An Ode to Aluminum Foil"  
(Sung to the tune of "The Ballad of Jed Clampett" from The Beverly Hillbillies)
Come and listen to a story about a man named Jed,
An overworked cook who daily packed his fam'ly's bread!                                                                 Then one day he was wrapping up some food,                                                                                        So off from the roll he tore somethin' good!                                                                                                 (Foil, that is … Alum'num! … Reynolds Wrap!)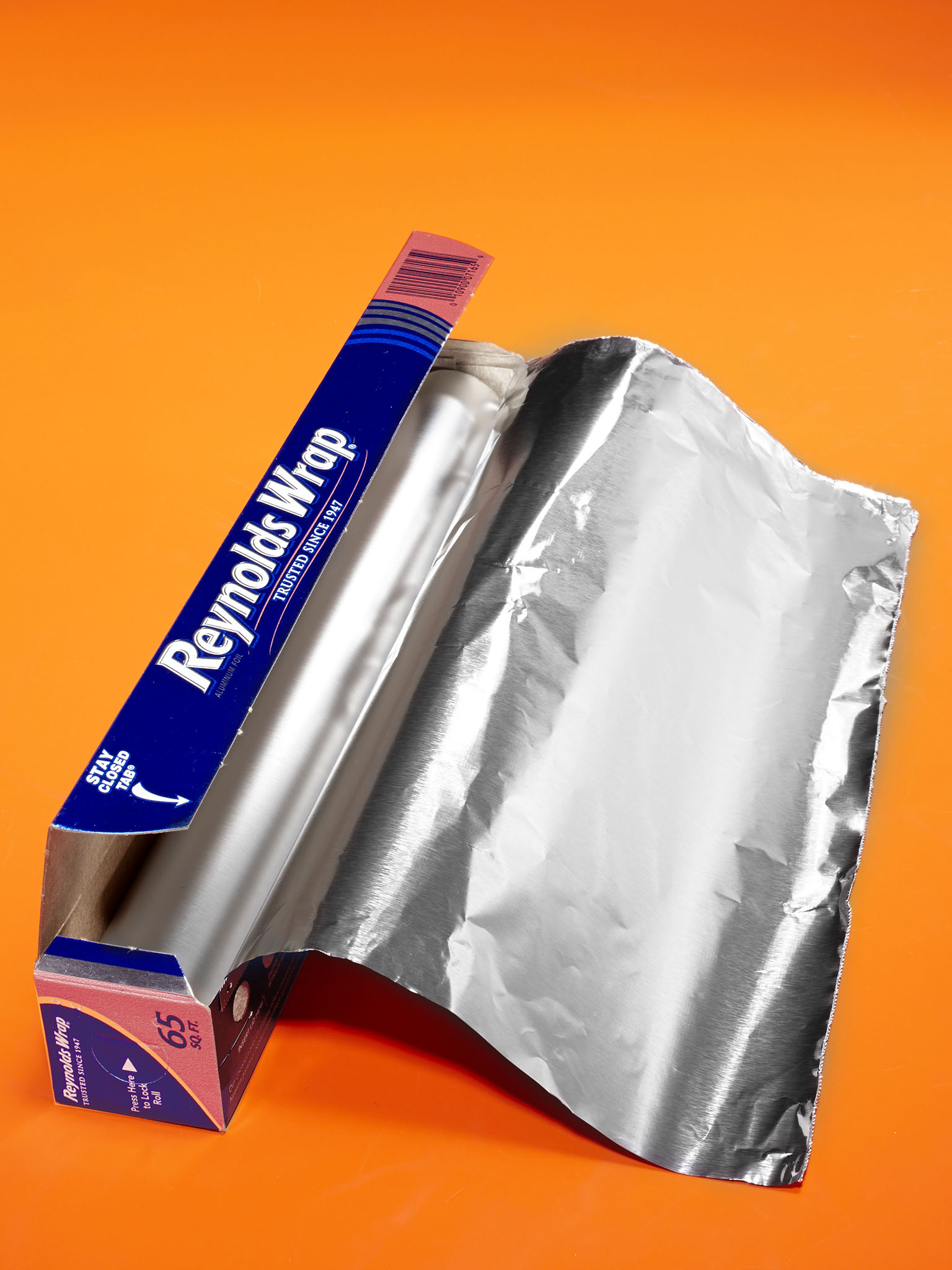 Relax, dear reader: we have no intentions of pursuing songwriting! But we would like to share a few hundred words about aluminum foil, the unsung hero of cooks everywhere!
Aluminum foil is one of the most versatile materials we know. And it has several uses in both the kitchen and the commercial packaging of foods. It insulates and protects, preventing certain foods from burning due to uneven heating. It keeps foods fresher for longer periods, because it blocks the rays necessary for the growth of bacteria. And yet it's extremely thin and lightweight. In fact, "heavy duty" aluminum foil is less than one thousandth of an inch thick!
Aluminum foil was first manufactured in Switzerland, in 1910, as thin yet strong metal leaves. Because of its thinness, aluminum foil folds and shapes easily, allowing cooks to tightly wrap everything from a turkey drumstick to a hoagie sandwich. The Swiss candy manufacturer, Tobler, was the first company to use the material in commercial food packaging; in 1911, Tobler started wrapping its unique, triangular-shaped chocolates (Toblerone) in aluminum foil.
Prior to the advent of aluminum foil, foods were frequently packaged in tin foil. But prior to and during World War II, tin was infamous for imparting a metallic taste to the foods it was in contact with. So by 1950, aluminum foil was rapidly replacing its dull sibling in both homes and commercial food packaging. Here in the U.S., we tend to call it "reynolds wrap," because the Reynolds Metal company has always been the chief manufacturer and supplier of kitchen foil. In the UK, however, it's still called "tin" foil, for the same reason people still refer to tin cans — even though all cans used in food storage today are either made of steel or aluminum. (Old habits die hard, right?)
Ah, aluminum! How we do malign your shiny metal! Sigh!
We use aluminum foil to wrap our sandwiches, but before anyone begins to wonder why we don't use plastic sandwich baggies, please let us explain. Those saggy sandwich baggies are … baggy!  They don't hold the sandwich firmly and securely! The bread, meats and cheese sit loosely in the bag, with nothing to really keep the components together. Stick a poor sandwich into a baggie and toss it into your handbag, basket or backpack and here's what happens: during the course of your travels, as you hike, bike, or drive over winding roads or bumpy trails, your sandwich flops about in its saggy baggie until it falls apart. Not so if you securely wrap it in foil!
A sandwich firmly wrapped in aluminum foil holds together! The meat, cheese, lettuce, tomato, pickle, and onion stay put — instead of falling apart. When you remove it from its foil, your sandwich LOOKS like a sandwich — not a loosely shuffled deck of playing cards. And the bread doesn't get mangled and all bent out of shape!
We may seem overly enthused about the merits of aluminum foil, but there's something we're far more passionate about: our Heavenly Father! God is the believer's "reynolds wrap!" He protects and preserves us! "You are a hiding place for me; you preserve me from trouble; you surround me with shouts of deliverance." (Psalm 32:7 ESV)
Like reynolds wrap, God holds us securely in His arms and keeps us from falling apart as we travel the bumpy road of life. "….God is your refuge, and His everlasting arms are under you." (Deuteronomy 33:27 NLT) There's no lack of stress and adversity in this hectic world, and it's easy to get "wrapped up" in the cares of life; but when we put our trust in Jesus Christ and focus on God instead of on our circumstances and problems, He's capable of holding us together and keeping us from getting all bent out of shape! "These things I have spoken unto you, that in me you might have peace. In the world you shall have tribulation: but be of good cheer; I have overcome the world." (John 16:33 King James 2000)
God also INSULATES us from the power of sin! His redeeming blood covers us and keeps us from burning. "…We have redemption through His blood, even the forgiveness of sins." (Psalm 32:7 King James) "…[God's] love covers all offenses." (Proverbs 10:22 ESV)
Feel like a sandwich today? We do, secure in the knowledge that God (our divine "reynolds wrap") is able to foil all the schemes of the enemy!